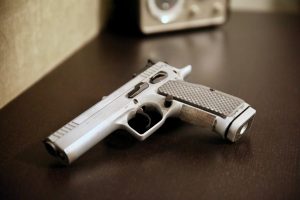 This page is a rundown of all the gear I take to matches and practice, with some brief comments about what I like about them.
Anything on this list doesn't constitute a global endorsement. It just happens that the particular tradeoffs offered by that piece of gear fit my needs so far.
Match Gear
Gun: Tanfoglio Stock 2

Setup: EGD Med Hammer spring, EGD Light FP spring, EGD Firing pin.
Grips: Custom-made, extra-thick Lok Grips G10 grip panels.
Before that, I was using the stock wood grips because they gave the most surface area and grip. I have average size hands, but I don't have much use for thin grips or chunky metal grips.

Sights: Dawson .100 width front with red fiber; stock Tanfoglio rear
Holster: Molded kydex body with BSPS thumb screws on a BOSS holster mount with small spacers.

My holster is made by a local custom kydex guy, but Red Hill and Long's Shadow both look like fine options if you need to order something online.
The Bladetech Stock 2 holster rattles too much for my liking. Probably because it's molded large enough to accomodate a Stock 3 as well, which is half an inch longer and has a rail.

Belt: CR Speed Super Hi-Torque Belt

I have also used a DAA Competition (not Pro) belt but found it too stiff. The CR Speed has just the right amount of give to be comfortable but firm.

Mag Pouches: DAA Racers

The DAA belt mount is very minimal and the mags sit low on the belt making them easier to reach. I had to sand the spacers to fit large frame Tanfo mags and blue loctite the screw that holds it on the belt mount.
I used to use Ghost 360 pouches, but found their belt mount was so wide I would hit my thumb on it (mounted bullets-forward). Also, I snapped one about once a year

Ammo: 135gr TC Blue Bullets with CCI or Winchester primers.

Not interested in chasing the light trigger fairy and shooting Federals only.

Hat camera: Tachyon GunCam

The fisheye is minimal, the camera is very reliable, and the audio quality is pretty good. If you have the money, it's the most straightforward option.
Hat mount: 3M DualLock "velcro" to stick the camera to a black money clip. Works great.
Used to use a Mobius Mini, which as a great value and super light weight.

Handheld camera: Canon Vixia R800

Recommended.
Avoid the Sony Handycams. Fewer features, poor build quality, and the proprietary video formats are a hassle.
Range Bag
Fast Orange Hand wipes: The flat 25-count packs fit nicely in a range bag and the textured side does a pretty good job getting stuff off your hands.
Oiler Pen: doesn't leak in my range bag, made of metal so I don't have to worry about crushing or bending it, and very precise to apply.
Practice Gear
Clipboard: Plastic clipboard with storage inside that gives you a place to store pens, a small notebook, sheets of dots, and other small bits. Having a little thickness makes it easy to hold in one hand and write on too. 
Husky 35″ Job Box: The size makes it the perfect size to hold USPSA targets, and the tool tray is a good place for timer, target stakes, paster rolls, and so on. Plus some target stands, this box stays packed between practice sessions and I just pack my range bag with guns, mags, and ammo to be ready to go practice.
Workbench