Bio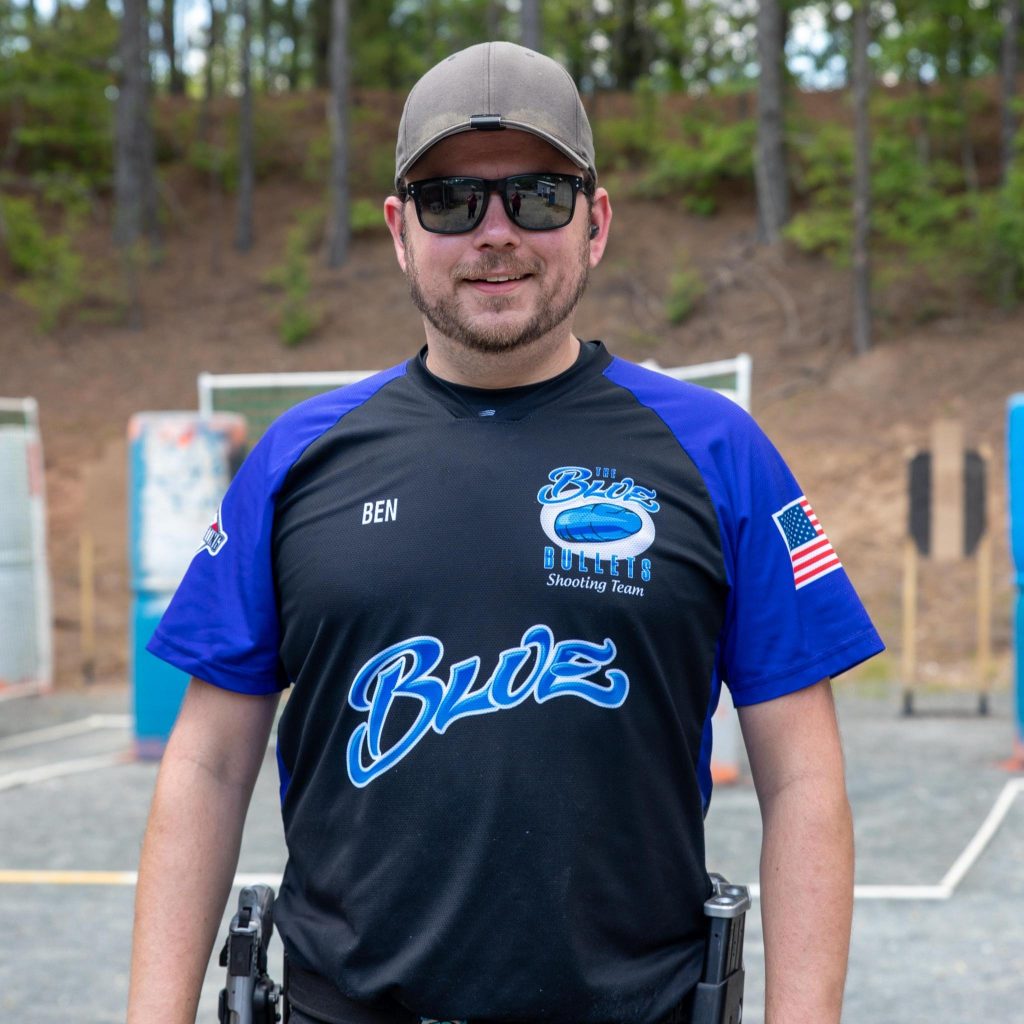 The third time I fired a gun in my life was at my first IDPA match in 2010. I came in dead last, but I was hooked. By 2012, I was shooting both IDPA and USPSA. I joined USPSA at the end of 2012, worked the 2013 NC Section, got my RO certification in 2014, and CRO certification in 2015, working the state match each year. 
I initially classified as C class in 2013 and worked up, one classification per year, until becoming a Production GM in 2017. Over the years, I've had the chance to take classes with Steve Anderson, Ben Stoeger, and Eric Grauffel. I continue to take classes and train as much as time allows, shooting a mix of Production and Carry Optics.
I live in Raleigh, North Carolina. I graduated from NC State with Bachelors of Engineering in Computer Science in 2011. I've worked professionally as a software developer since then.
I'm married to Stephanie Berry, who I met at an IDPA match in 2015. We had our first child in 2021, and our second is due in early June, and will hopefully be home safe with us by the time voting starts. My wife has served as the NC Section Coordinator since 2018.
Why are you seeking to be an Area Director of USPSA?
To give the membership a greater voice on the board. I hear from members all across the country that there is no point raising their concerns to their Area Director because they will not be listened to.
The board has made many questionable decisions over the past 5 years, but the recent decision to violate the bylaws by allowing an Area Director to serve without meeting the mandated requirements shows they believe they are accountable to no one. That has to stop.
Prior to announcing your candidacy, what have you done to help promote safe, fun and fair practical shooting in your area?
From 2013 to 2016 I cohosted the Triangle Tactical Podcast, a show dedicated to helping people get into practical shooting and develop as shooters. Starting in 2018, I continued that mission on my own with the Short Course Podcast. I use it as a platform to try to share ideas, promote matches that are doing things right, discuss when things go wrong, and solicit feedback from my listeners about what they are seeing in their corner of the sport.
From 2015 to 2016, I was match director for a 4-stage, beginner-friendly, time-plus weeknight indoor match dedicated to being a good place to start with the shooting sports. When the opportunity arose in 2021, I continued that same match format at another range, where we regularly fill up the match in minutes when registration opens.
I've worked the NC Section each year, 2013-2015 and 2019 to present.
What qualifications set you apart from other candidates? What previous or current employment or volunteer experience do you have that qualifies you for Area Director?
Professional experience with web, mobile, and backend software development gives me expertise that would be very valuable in improving the technology that USPSA needs to bring itself into the modern era, starting with the USPSA Android and iOS apps. I can provide advice and evaluations of vendors and project plans, architecture and proposals for the many technology projects that we should be undertaking in the coming years. I would provide valuable additional technical expertise to the board.
Describe the current culture of USPSA.
Existing, hardworking local match directors who just want to keep their head down and put on their monthly match without drama. Local match shooters who ignore most of the National/organizational issues because they don't impact them.
Regionally competitive shooters looking for the best matches they can shoot to test themselves. Nationally competitive shooters who go to Nationals and wonder why it's not any better than some level 2 and 3 matches.
New match directors and shooters looking to affiliate and choosing between USPSA, PCSL, or outlaw, and having fewer and fewer reasons every year to choose USPSA.
After reviewing the bylaws, please explain what an Area Director of USPSA is responsible for and how will you fulfill those responsibilities if elected?
As a member of the Board, an Area Director is one of nine voices all trying to provide strategic direction for the various priorities in keeping the organization healthy. Identifying the most critical issues facing the organization and building a consensus to take action on them is the only way to be successful at this. Having nine different people all pulling in nine different directions will obviously not get much done.
As an individual, the Area Director either serves as or delegates the role of Match Director for the Area Championship. If elected, I would work with established USPSA clubs to find one willing and able to host a high quality match. I would partner with a representative on the ground at that club to coordinate the match logistics, such as stages, registration, and scheduling to ensure the match is a success.
What are the top three areas that need to be addressed within USPSA? As an Area Director what is your strategy for addressing them?
Accountability. Members need to know the board does not feel that it can act with impunity.
Transparency. Never in history have we had more ways to get information to people quickly and at low cost, and yet the understanding of the membership about what is being done in their name and with their money is as low as it's ever been.
Competitive equity. We should create the rules for the sport that maximize interesting competition, and not simply allow as much as possible or whatever is popular at the moment. The sport is defined by what it does not allow, as much as it is by what it does. We have to decide on reasonable restrictions that create within those boundaries meaningful and compelling competition.
If elected Area Director please explain how you will help support the clubs, sections and current members in your Area as well as promote USPSA to potential members?
Listen to the clubs, sections, and members so they will tell me what they need. Draw out the common threads and find strategies to try to provide it. The job of a director is to listen to and serve their constituents, not impose their will.
It's hard to say what the best way to promote USPSA to potential members is. Certainly running matches that are more beginner-friendly than your typical match full of 32-round field courses would be a good start. Understanding what has been done in the past that succeeded or failed. Find out from people who recently joined how they found out about the sport and what it was that attracted them to USPSA, then put resources into those things. Talk to match directors about where their new shooters are coming from, and look for ways to grow those sources.
At the end of the day, being a credible sport that people want to be associated with is important. Nobody wants to join an organization they hear is corrupt or malfunctioning. Addressing the source of that reputation would go a long way to making joining USPSA appealing to potential members.
After reviewing Article 5 bylaw 5.1 please provide an outline of your strategy for items i) through vi)
Divide and conquer. When another board member has specialized expertise or experience in an area, defer to them while learning as much as I can. Volunteer to lead projects in areas that meet my strengths and interests. In a case where there is no clear good fit between the members of the board and the needs of some project or initiative, be willing to step forward, learn on the job, ask questions, and take action.
Explain your strategy to best represent the members in your area as it relates to your role of Area Director and member of the Board of Directors.
Establish the underlying values we're trying to achieve with the organization. Listen to the varied perspectives and experiences each member has from their corner of the sport. Try to understand how any given change would affect them, and help or hinder achieving those goals. Make decisions based on the logical conclusions of what is best for the present and future of the sport, not by what might be popular in the moment.
What is USPSA doing right?
Keeping membership dues and activity fees constant until members and clubs start getting more–not less–for their money.
If elected, what other issues would you want to address and what is your strategy for addressing them?
Make signing up for USPSA the one-stop shop for someone interested in getting into practical shooting as follows:
For individual members, make joining USPSA the "easy mode" for getting started in the sport. A short handbook on rules and equipment, instead of expecting someone to read the full rulebook. Guides for shooting your first match, and so on. Eventually, some kind of social support network so you have a small group of experienced members you can ask questions of, and fellow new shooters to share ideas with.
For clubs, make affiliating with USPSA the "easy mode" for getting the match off the ground. A handbook for running successful matches, including example stages with explanations of what is good about them, and a list of the 10 most common things that make an illegal stage. A manual to building or buying props, including schematics for different setups of target stands, walls, and wall stands from various materials. Have a way for new match directors to get help from experienced ones, both locally in their Section and across the country, so that new clubs, or new match directors at existing clubs, have support in a generally thankless job.
If you are unsuccessful in your bid to become Area Director, how will you serve USPSA in the future?
I'll continue to be involved at the level where I can have the most positive impact, which currently appears to be the state and local level.