Mike Foley Has (At Least) 155,000 Reasons Per Year To Fight Any Attempts To Remove Him
Let's wind the clock back to 2015. The previous year, the US had just hosted the World Shoot for the first time in 28 years. The 2014 Nationals, a 4-day, 24-stage match in St. George was widely regarded as one of the best Nationals in recent memory. The sport has six divisions, with PCC and Production Optics still under discussion.
Phil Strader's 4-year term as President is winding down. It's considered a part-time position, paying $54,000 a year, with the understanding that the President would have some other job to help pay the bills.
But the sport is growing. The Board has decided the org can sustain a full-time President, paying $110,000. This is a pretty reasonable idea, since the highest-paid employee on the payroll is actually an Executive Director taking home $91,000 a year. By combining that position and the President's seat, the idea goes, the org can save money and get a more involved President.
[EDIT: Chuck Anderson, who was a member of the USPSA Board at the time, responded on Facebook with additional context of what was going on behind the scenes at the time: "The info about the salary for Foley is inaccurate. Not the amount, but the reason. It had nothing to do with combining the ED and President. It had everything to do with the previous President not doing his job because he had too much work to do with his full time employer. The BOD wanted someone who could focus on the job instead of it being an afterthought. The ED wasn't folded into the President position she was released after she refused to do her job. Gary Nash was brought in initially on a part time basis because the BOD hired someone who wasn't competent as ED (and I'll own that) and didn't know the first thing about running the books of an org the size of USPSA. Nash was brought in to try and resolve some of that lack of training. When the ED was gone, he was hired to fill the ED duties that Foley wasn't. As well as to have a second person capable of monitoring the finances so a single employee couldn't steal from the org." Thanks, Chuck.]
Four candidates put their name up for nomination, and the election goes into a runoff, and the winner is Mike Foley. Coming from a background of being an M-class competitor, working at an online shooting sports retailer, and talking very directly about running USPSA like a business, his election brings a general sense of hope that USPSA, with its first full-time President, is going to take things to the next level.
So Mike Foley quits his job and, starting January 1, 2016, starts a 4-year term as President of USPSA. The first year, he is indeed paid $110,000. In 2017, in his second year of employment, he gets a raise to $134,000. In 2018, the year he threatens me with a lifetime ban over a joke on the internet, he makes a modest increase to $140,000. In 2019, his third year on the job, that's raised to $155,000, averaging out to roughly a $15,000 a year raise for three years.
These figures are pulled from the Form 990 filings of the non-profit 501(c)(3) that USPSA HQ is incorporated under. 2019 is the most recent year for which filings are available, but if we project the trend out, who knows what the President's current salary is. $170,000 in 2020? $185,000 in 2021? Issues of compensation are always discussed during Board meetings in executive session, so as members, we have to wait until the tax filings are released to find out.
As time passes, the idea of saving money with salaries has gone by the wayside. Halfway through 2016, Gary Nash is hired as Director of Financial Operations. Fair enough, the org could use someone keeping an eye on the finances while the President does whatever it is that keeps him busy. Then, in 2019, Jake Martens is brought on full-time as Director of Media and Events, making roughly the same salary that the President was slated to earn back in 2016. (There are, of course, other folks on staff, these are just the only salaries listed in the 990.)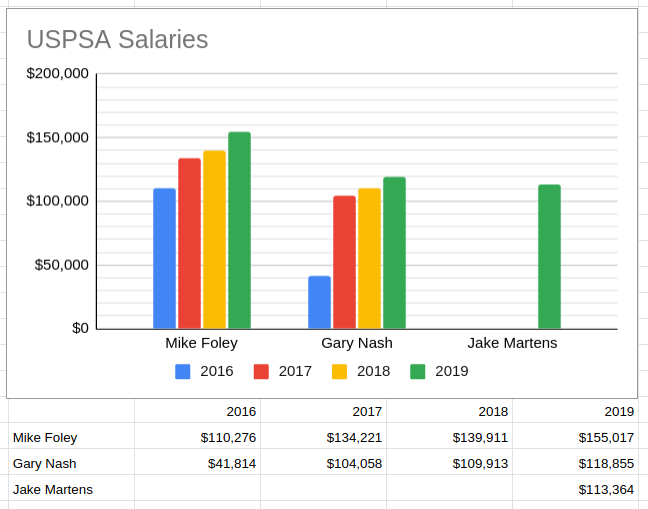 Now, don't get me wrong here. I'm as much of a capitalist as anyone. There's nothing wrong with paying someone what they're worth if they're doing a good job and producing results. But I have to wonder if the USPSA membership thinks the President has been doing such a good job that he has earned raises well above cost-of-living every year since then. (Again, who knows what his current pay is now?)
Make no mistake: I think Mike Foley has been a poor leader of the sport, and represented us extremely poorly. His behavior to me in 2018 showed that, and his behavior this year shows it again. USPSA HQ appears to only be interested in dumbing down the rules, watering down competition, lowering the bar to participation as far as possible, and driving up activity numbers, all while moving us further and further from IPSC, which we are nominally supposed to be the regional arm of. Mike Foley and the team he is leading are hollowing out the sport and I think we would be better off with new leadership. I can't imagine that statement comes as a surprise to anyone that's made it this far.
But I don't blame him for fighting back. Having some millenial fag (amazing he hasn't edited that post yet) try to get you removed from your highly paid job is nothing to sneeze at. I'd fight to keep my job too.
As it is, who knows. Like I mentioned yesterday, it would take 6 out of 8 Area Directors to vote to remove him, which strikes me as highly unlikely. That means that he's probably safe until the next election in 2023. What happens then is anyone's guess. Up next: some ideas for what to do in the short term.